Happy Friday!  This week we're pleased to introduce you all to Joseph Pavia!  He's the raddest dude you met in line for an exclusive release, and has a true passion for collecting.  Not to mention--an all around good guy.  We're all thankful to have Action Vinyls collectors of this caliber rooting for us.  Here's what Joseph had to share...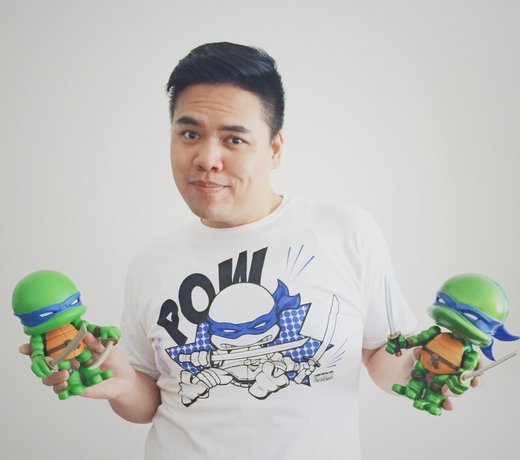 How did you get into collecting?
Joseph: Hmm...It all started with 1980s TMNT, but I was a child & I didn't know any better, but just to play with them. From there in the 90s, it became the Power Rangers, Batman The Animated Series, & Spider­Man The Animated Series toys, but I was still playing with them. The way i collect started to change in high school, when Marvel Legends were introduced. I opened them, but instead of playing with them I would display them. Since it started doing Build A Figure (BAF), all the different characters that they made were AMAZING!!! My favorite one is the Sentinel!!! At the same time, I started collecting DC Universe Classics with their Collect And Connect (C&C) figures!!! My favorite is the comic book version Bane!!! Now, I still collect them from comics to toys!!!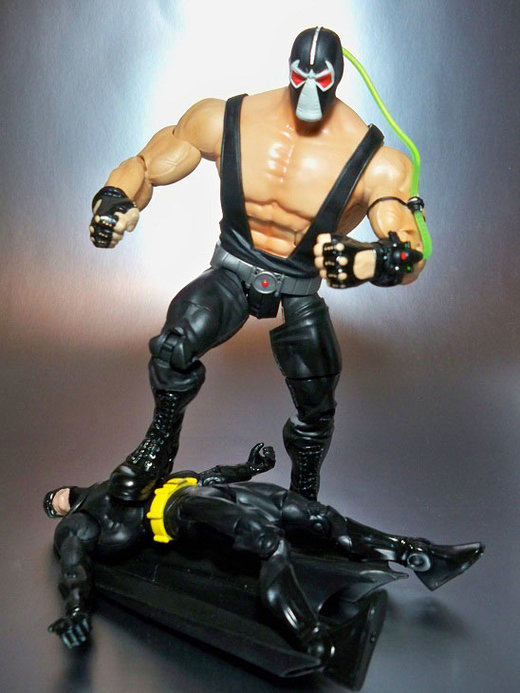 What was your greatest Christmas moment?
Joseph:  Not my greatest, but something I will always remember. When I was 7 years old, my Aunt came to stay with us during Christmas. I remember the movie that I loved at that time was Space Jam, you know with Michael Jordan & the characters from Looney Tunes (My favorite Looney Tunes character is Wild E. Coyote). She knew how much I loved toys & I was collecting the ones that came with one of the characters & Monstars (Aliens that took the Basketball abilities of basketball players such as Charles Barkley, Patrick Ewing, Larry Johnson, Muggsy Bogues, & Shawn Bradley), So, in our old house, which was 2 stories, my family hanged out stocking on the stair railings. My brother and I could not sleep, because we were too excited for Christmas Morning, which is the time we open presents. Well, my brother & I waited for Santa Claus downstairs near the chimney, but we fell asleep at that time "Santa" was dropping off presents on the steps of the stairs. When we woke up, we rushed to the stairs & lo and behold we got these AWESOME Christmas presents, which were Beast Wars Transformers (I remember I got the Beetle one) & Space Jam's Alien Spaceship car that came with the 5 small aliens, which at the time I never knew existed & just surprised on how INCREDIBLE they were!!!
What would you risk Life and Limb to Rescue?/What is the single most coveted piece in your personal collection?
Joseph: Other than my family & friends, it would have to be my Arkham Asylum Blue Batman Proto!!! I was gifted this from my good friend Reis O'Brien, who works at Funko, on my birthday. You have no idea how much I LOVE this proto!!! It is a prototype from the Hot Topic Exclusive Arkham Asylum Blue Batman that was sold in stores a few years ago. If you don't know me, my favorite games are from the Batman Arkham Series (Batman Arkham Asylum, Batman Arkham City, Batman Arkham Origins, & Batman Arkham Knight). When I found out, Funko was making them into POP!'s, I FREAKED OUT!!! I was SO THRILLED, because I love how they look and it's BATMAN!!! When Reis told me he sent me a package, I did not see this coming!!! Thank you again Reis!!!
What do you love about the community?
Joseph: The community is family. I made so many new friends from the Toy community that it is PHENOMENAL!!! We pretty much all love to collect & help each other out on items that we are trying to find or need to complete a set. From selling to trading, it feels good to help someone out!!! I especially love when we talk about what is coming out or wish is coming out and just discuss about it!!! We could agree or disagree on items, but we can't help but love to see how AWESOME they are!!!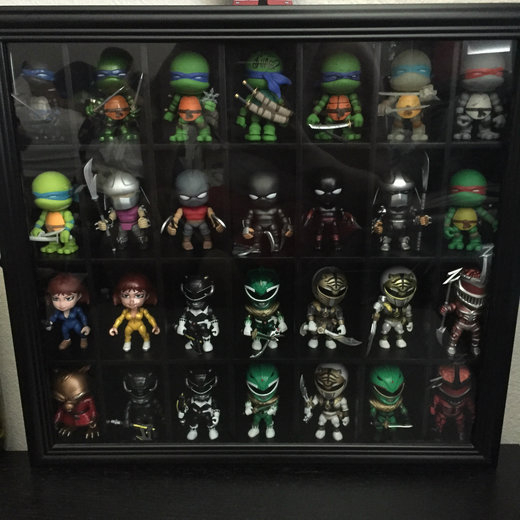 Who is your favorite retailer?
Joseph: My favorite retailer would have to be all the Hot Topics!!! Everyone is ALWAYS friendly & helpful!!! I ALWAYS go to Funko section which will have the POP!'s & Mystery Minis!!! Some of them put it together with The Loyal Subjects, which is ALWAYS perfect for me since I'm always standing there!!! If I ever go to malls that have a Hot Topic, that is the first place I would go!!! Plus you get GREAT discounts!!! Right now, The Loyal Subjects Hot Topic Exclusive Power Rangers Stealth Edition is the ones I try to find first and hopefully complete my set (I just need the 1/48 Stealth Pink Ranger & 1/96 Stealth Goldar)!!!
Who, what, where and how did you find TLS?
Joseph: I remember researching items for San Diego Comic Con in 2013 that I wanted to get. I saw Cybertron Megatron- Midnight Edition on a site & knew I wanted to get it, but during that time, I didn't have the time to go to their booth since I was buying other things and going to other places. The following year is when I really found TLS. I saw that they would have their SDCC Exclusive Shattered Glass Dinobots with one of my favorite characters Slug!!! When I went to go to purchase them, Jonathan Cathey tells me that the designer Les Schettkoe will be doing autographs and at that moment I was like NO WAY & it would be AWESOME to get his autograph and the rest is history!!!
What do you like about The Loyal Subjects?
Joseph: Right now, it would have to be Joe Allard's Teenage Mutant Ninja Turtles & Mighty Morphin' Power Rangers!!! LOVE HOW THEY LOOK AND ARE ARTICULATED!!! My favorite out of the TMNT's is ALL the Leonardo's from the 3" to 8"!!! I have ALL the Leonardo's from Series 1 & I am SO EXCITED for Series 2!!! My favorite out of the Power Rangers is the Green Ranger!!! I have all the Green Rangers except for the 4' Green Ranger which costs a FORTUNE!!! I LOVE the different variants of each sets, which you can combine to make a SUPER TEAM of Stealth TMNT & Power Rangers!!! How AWESOME is that!!! From Jonathan & the TLS Crew (Eamon & Anthony) to the Designers Les & Joe, you can see the passion that they have with how SPECTACULAR everything comes out & ALWAYS taking care of the #TLSArmy!!! Because of them & their INCREDIBLE figures, I made an Instagram that is entirely about those figures!!! @tlsblackstar #StayLoyal
THANK YOU Joseph!
& Follow him on Instagram!

If you would like to share your story, please get in touch by emailing info@theloyalsubjects.com
#STAYLOYAL