The War rages on.  Cybertron is plagued by Civil War and the complete dilution of resources consumed by its inhabitants.  With plans to invade Earth, the Autobots must stop Megatron and his insurgence from taking Earth's resources for their own.  With help from the Dinobots, Optimus pushes back Shockwave and his forces, including Ramjet and the Insecticon known as Shrapnel.  While the Dinobots are continuously annoyed with Optimus Prime, their greater disdain for the Decepticons keeps them of somewhat neutral threat to Optimus and his cadre, including Prowl, Mirage and Sideswipe.
Series 2 of Transformers Action Vinyls are now available at local retailers nationwide.  Optimus Prime is back, and this time he talks!  We are also proud to announce the release of our exclusive chase figures variants, and 5.5" Grimlock & Optimus Prime figures available only at Hot Topic.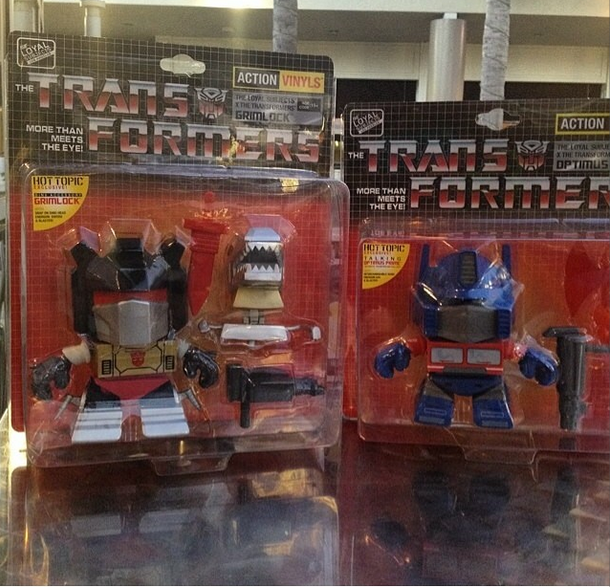 The new series come equipped with many more points of ball-jointed articulation, with the addition of Dinobots: Slag, Grimlock (HT only) & Snarl (HT only.)   The possibility of the new series goes beyond wave 1, and we hope our collectors enjoy the range of motion and interchangability these new Transformers characters are capable of.
Below is a list containing several of The Loyal Subjects retailers, so transform & roll out to store near you today!