I was living in West Hollywood.  I had a friend, a really funny guy.  Loved music, loved tattoos, loved comic books, loved horror movies, a big Star Wars fan.  We met skateboarding in the quads at Santa Monica City College.  A funny group of folks hung on the quad – Mike Eizinger from Incubus, Mickey Madden from Maroon 5, Tara McPherson -  SMC (as the locals called it) was some sort of wayward bound home for creatives, weirdos, punkers, musicians, skaters, surfers – the fun kind of folk, the people who see everything in color, with possibility.  I met this fellow there.  The guy had a super sharp wit and from the looks of it, could draw pretty good (say that with Napoleon Dynamite like sincerity).  We became good friends.  Eventually, he moved in as a roommate.  His girlfriend, Tara McPherson, came along too.  Three happy punkers hanging Christmas lights around a 1920's Spanish style bungalow.  The salad days. 
My buddy loved comic books, and metal.  His dream was to be a comic book artist, and possibly a part time death metal singer.  He achieved the latter.  We started a band called Lightning Swords of Death…another story for another time.  My buddy was pursuing a project with some friends.  Screw it, DIY -  If you can't get hired by a comic book company why not start one?  My sister was studying business at USC.  She jumped in to try and help my buddy launch a comic book.  It had all sorts of crazy mythology and story engines – Ancient Egypt, the Necronomicon, Kung Fu, Kaiju, robots – I forget what it was called but it was an orgy of cultures and mythos.  Any event, he hired an artist, Bill Sienkiewicz to do a cover.  My buddy, my sister, and a guy who threw a couple thousand bucks into the cost pool headed down to San Diego to this thing called Comic Con, try and drum up business about this new comic book.  I ended up heading down, primarily to hit the pool.  My buddy was staying at the Marina Towers right next to the convention.  The Towers had these tropical style pools, and ladies with sarongs came by with fruity drinks, the kind with umbrellas, the kind that gives you brain freeze and a vacation style buzz.  My kind of place. 
I get down to the Convention Center, walk upstairs, buy a ticket, and head down to the show.  About half the hall is being used.  The other half has sliding partitions about a mile high.  Beyond the partition were dusty chairs, odds and ends and a converted food court.   Some guys with Hawaiian style shirts printed with comic book characters sat around, checking out toys and things.  I walk around and I'm immediately filled with nostalgia – "Say what?!  I can buy that Darth Vader Head?!  How much!"  I was going nuts.  I thought it was a geek flea market, and I loved it!  I would walk up to each booth and start a Tijuana style auction, except the prices went down, not up.  I bought some ceramic Beatle statues, some Star Wars helmets from Riddell and a kooky looking Optimus Prime with Japanese writing all over the box.  I still have all those things.  I ran the hall, it was lightly crowded, you could walk freely, lapped it about 6 times in one hour (the show wasn't that big), gave my buddy and my sis high fives, and added my moral support for their new venture.  We would peel out after the show closed, hit the pool, sip on those cruise ship drinks until it was bedtime.  We would crack the windows, let that warm summer breeze fill the room, paradise.  Then mosquitoes  breeding in the stagnant pools from fountains below would eat us alive.  Not so much paradise.  We learned, we closed the windows before bedtime.  This was my first San Diego Comic Con.  The year, probably 1996.
Here I am 22 years later.  The show is different.  It's HUGE!  I call it Sundance South.  Movie Studios, Celebrities, giant Brands, Tastemakers – all hit the streets and convention halls in San Diego to take advantage of that golden shine, when one weekend pop culture rules the world!   It's Halloween, a popgasm, a thesis in marketing all rolled into one.  More important, it's a chance to get to know people who share the same passions, have the same feelings, leave judgment at their front doors – it's an all for one, one for all, where fans, customers, creators co-mingle in a celebration of the popular arts.  How cool is that?!   The Loyal Subjects has grown because of San Diego Comic Con. Because of those early adopter TLS Army folks who thought, "Hey, this is cool, it's worth me giving it a shot."  These folks have seen us refine our craft, add more great licenses with magnificent mythos, up the stakes each year, and are the first folks to eat steaks on grills we had to man ourselves for the first ever Fan Jam!  SDCC is on our mind all year round – "How can we exceed expectations?"  "How can we ignite imaginations?"  That's our goal.  Our whole Team pours an enormous amount of energy into SDCC because we want to be special for you, we want to live up to your expectation, so we give it everything we got, and then some.  I'm really proud of our exclusives this year – we deliberate carefully, pouring our best energies into characters, products, details, and themes that we believe stand the test of time and are great story telling vehicles for the Action Vinyls program.  We want them to be collectible too!  We painstakingly comb over every detail, every design element, and we schedule the releases in themes that we think are fun and engaging.  I have a special affinity for this year's exclusives.  I live on Elm Street.  Not kidding.  I've lived on Freddy Kreuger's street for 24 years (the house from the movie).  How fitting to be making Freddy into an Action Vinyl!  Not only that, to the left is Mutato – Mark Mothersbaugh's studio, where the Rugrats music was/is composed.  To the right, Clasky Csupo – the way ahead of their time animation house responsible for breaking down walls, seeing animation and multi media from the lens of true artists, true creators, and now I'm making Action Vinyls of their creations!  It took 24 years, but heck, better late than never!  Thanks neighbors!
Without further ado, here is the list of all TLS exclusives and the schedule.  We errantly forgot Chuckie Finster in the clumsy price catalog cobbled together.  Forgive us.  He's on the schedule and his picture is featured in this blog post.  He's awesome!  Each exclusive bought on the floor (only 150 of each from the TLS Booth) will have a foot stamp that says "SDCC FLOOR".  Super rare finds.  On Thursday afternoon, pending a smooth web upload, ALL the "SDCC STORE" exclusives will be loaded up online for purchase.  We can't leave those folks behind who can't make the trip!  Better yet, we left three Predator exclusives to ONLINE ONLY, some will have the SDCC FLOOR foot stamp, and that's right, those will be 1/150!  The Predator 1/150 items will randomly be thrown in orders, as will some choice prototypes.  Customers are limited to purchase 5 of each style per a 24 hour period. 
Special Mention – we have Tsuchiya-san, the Producer for Mega Man dropping by to sign Mega Man blindboxes, Saturday at 10a!  Pretty dang cool.  Another note – for one hour every day, starting at noon and ending at 1p, TLS blindboxes are Happy Hour prices – HALF OFF!  This is my ode to those beautiful, sippy cruise ship drinks, and sun filled days back at the Marriott Marina Towers.  May my memories metamorphosis into your savings!
I hope this is a memorable SDCC.  I'm happy to have shared my memorable experiences; I hope you guys make some great memories too!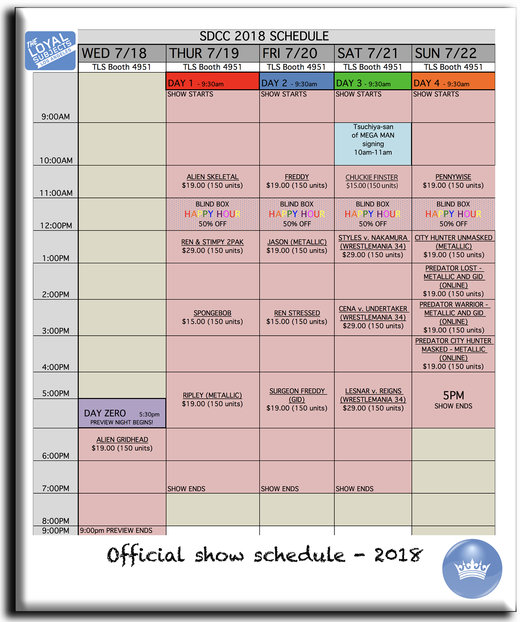 "Kazuhiro Tsuchiya (Producer, Mega Man 11) is a Capcom development veteran who has been with the company for 20 years. Tsuchiya was close to the Blue Bomber from the start, with some of his earliest projects being Mega Man 5 and Mega Man 7. Today, Tsuchiya and his hard-working development team are creating Mega Man 11, combining classic side-scrolling action with a fresh new visual style and the game-changing Double Gear System that gives players more control than ever before."