Happy Friday!  Hope everyone had a fantastic week :-)  
We started this weekly highlight of our retail partners last Friday, and are stoked to be bringing a 2nd chapter to this story.  Today we're featuring another TLS Retailer that YOU NEED to know...MEGALOPOLIS!!!
Our pals at Megalopolis have been absolutely killing it in the collectible game, and we couldn't happier after linking with such a great group of fellas. Their TLS family at this point, but in case you weren't familiar--please take a moment to get an in depth look at the folks championing the TLS brand and collectibles scene.  Here's what Ben, Matt & Brady had to share...
Tell us a bit about your company
Benjamin Westover:  Ok, so Webporium was Brady's (Brady Hansen) company when we met. I had owned several clothing stores that were closed when my wife and I split up, and I actually met Brady when he bought my remaining clothing inventory I had listed for sale.
I had also owned a collectibles shop years prior and have been collecting since I was 4 years old, and as Brady and I got to talking he became really interested in that business. I had him sell some of my personal collection on consignment, and after seeing the response and how cool the products were he approached me about launching a toy brand.
I had been working as a consultant creating brands and designing retail spaces, so I was stoked to jump on doing another collectibles concept. Megalopolis and all it's branding are my brain child, but the 3 of us here have a really amazing synergy.
Matt (Matt Westover) just graduated Suma Cum Laude from the University of Utah and is an epic writer, awesome communicator, E-commerce and advertising wiz, basic overall genius, and is super passionate about our product and fan base.
I have a unique and intimate knowledge of the industry both having worked in it for years and having been a hobbyist my entire life, and my experience in other retail brings in a lot of perspective you don't normally see.
Brady is an entrepreneur who thrives at scaling startups and building outreach.
The 3 of us together have built this thing up very fast, and have tons of exciting projects in the works geared towards fans like us. It really is a case of getting to play everyday and having it pay the bills. We couldn't love it more.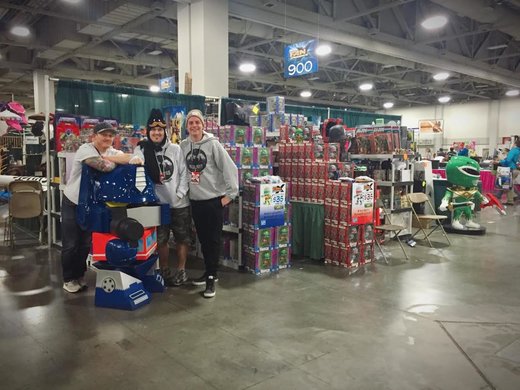 (Left to right: Matt Westover, Optimus Prime, Benjamin Westover & Brady Hansen)
Tell us about the first item you sold!  What did that feel like?
Matt Westover: We are a multi-branded vendor and started as such, so I can't remember exactly what the first item was that we sold. The first product of our own that we've made available, believe it or not, is an exclusive that we developed in collaboration with The Loyal Subjects! It's the Action Vinyl Teenage Mutant Ninja Turtles Series 2 Original Villains 4-Pack, and we could not be more thrilled about it.
What drives you to open those doors each day?
Matt Westover: Honestly, as a collector and consumer of toys, I don't feel like any other multi-branded e-commerce vendor "gets" the collector community or does a great job of creating an immersive experience for them. Most web-based toy stores either gouge on price or are sterile and distant. I'm driven to create a collector experience that engages and rewards. Plus, nothing is cooler than being surrounded by toys every day for a living as a grown man.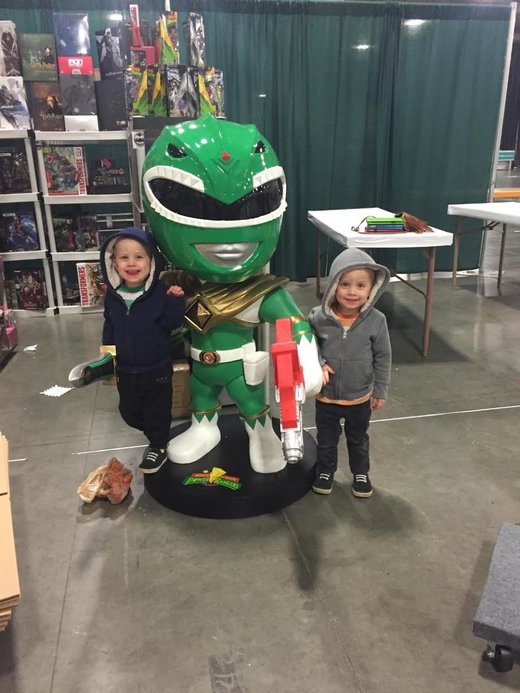 What do you love about the community?  Making friends?  Trading?  New Companies releasing cool pop culture collectibles?  What are the highs?!
Matt Westover: My favorite thing about the TLS community is how open and collaborative it is. For being a producer of high-end art toys, TLS is remarkably approachable and down-to-earth.
What was the greatest Birthday on memory?
Matt Westover: My eleventh birthday stands out as the best. I was gifted the trampoline that became the venue for my and my friends' backyard wrestling league--Extreme Trampoline Wrestling (ETW).  It served as the site of a lot of dangerous and irresponsible fun until my six-foot-plus-tall friend jumped on it after the frame bent during a wrestling match and made it capsize.
What was your greatest Christmas moment? 
Matt Westover: My greatest Christmas memory is receiving a massive cache of knockoff GI Joe figures called "The Corps". I was six and had no idea they weren't GI Joes. The sheer volume of them was the best thing ever to me.
What's in your collection would you risk Life and Limb to Rescue? 
Matt Westover: I would stare down a locomotive to save my first generation Sega Genesis with the original Sonic trilogy and Sonic and Knuckles. There's still no video game technology that beats being able to stack those cartridges.
Who is your favorite retailer?  What do you love about them? 
Matt Westover: Barring TLS, my favorite retailer would have to be Backcountry. They're a fellow Utah brand and embody the local mountain culture better than anybody. I'm an avid snowboarder as well and appreciate their selection, seasonal deals, and killer customer service (they are known to pack in fun little extras when you order gear from them).
What is the single most coveted piece in your personal collection – Show Us!  Tell us why you love it. 
The most coveted piece in my collection is probably my 10" Classic 'Stache Labbit by Kidrobot. It's a reminder of how Frank Kozik's work turned me on to vinyl and art toys in general, including TLS.
What did/do we (TLS) do to deserve your attention?
Matt Westover: Probably the 4-foot Action Vinyl statues. We have two of them in our retail store. I'm hoping to amass an entire collection of them to play wizard chess with like they do in the first Harry Potter.
Lastly – who, what, where and how did you find TLS?  What is your favorite feature on a TLS item?  Which TLS collectible is your "Hope Diamond" of the TLS cannon?
Matt Westover: I found TLS while exploring the greater realm of art vinyl. My favorite feature of all TLS items is the extensive articulation. Vinyl figures that have any sort of freedom of movement are a rarity. TLS has perfected them. My hope diamond is probably the 8" Battle Damaged Action Vinyl TMNT Leonardo. It's just too bad ass.
MEGALOPOLIS SOCIAL PROFILES!
Thank you again Matt, Ben & Brady for being such a supportive group of all around good dudes.  We're fortunate enough to consider these folks three of our own, and look forward to many more moons of shared success and Action Vinyls bliss.
If you have a story to share, we encourage you to get in touch by emailing info@theloyalsubjects.com!  Trust that we'd love to hear it, and help spread the word!
#STAYLOYAL